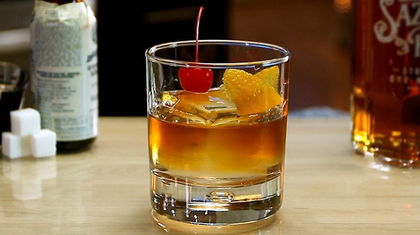 50 Most Popular Classic Cocktails of 2018 (So Far)
We're not all that deep into 2018 yet, but because you can never really collect enough data — it
is
2018 — we already have a list of the 50 most popular cocktails around the world for this year according to
Drinks International
. And while it's kind of nuts to say these are the most popular cocktails of the year only two months into it, we think this at least counts as a glimpse of general trends — plus a good excuse to try some delicious new drinks.                                        
via Giphy  
Below we have the top 10 cocktails according to the survey with corresponding Tipsy videos, plus the rest of the top 50 list further down in the post. The data, which comes via
Business Insider
, was collected from 106 of "the world's best bars" (whatever that means), and while we're not too surprised by these results, Skyy still thinks the Negroni is going to take over the number one spot before the year's out.
1. Old Fashioned
The Old Fashioned is an acquired taste for sure, but apparently, a ton of people have acquired it. It's a simple whiskey drink made a little sweeter with some sugar, but with a fat, clear cube of ice and some little aromatic garnishes, it's still sexy as hell. https://www.youtube.com/embed/uN4c6tCYjcE
See recipe.
2. Negroni
The Negroni is Skyy's go-to drink, because its combo of gin, campari, and sweet vermouth is smoother than some silk underwear. Side note: Try drinking a Negroni in your underwear to achieve maximum chill. https://www.youtube.com/embed/453oMWxxlzU
See recipe.
3. Whiskey Sour
Honestly, how in the world is the Whiskey Sour not the number one drink on this list? There's just no better pucker on the planet than the one that comes from sipping on a properly made Whiskey Sour. https://www.youtube.com/embed/mST_o5gJISs
See recipe.
4. Dry Martini
For all you classy folks who use the verb "yachting" and put bow ties on your dogs or whatever, the Dry Martini is your drink. Check out one of our favorite variations of it in the clip below in between discussing geopolitcs and pork futures. https://www.youtube.com/embed/guD9vS5ZNpo
See recipe.
5. Daiquiri
The Classic Daiquiri was created at the beginning of the 20th century, and it's held on as one of the most popular cocktails 'cause it's just as tasty as it is simple. Plus the word "daiquiri" just sounds like a good time on the beach, doesn't it? https://www.youtube.com/embed/KQ6Hsk_MznE
See recipe.
6. Margarita
The Margarita is so damn popular, there's a pretty good chance you're drinking one right now as you go through this list of drinks. We think it'll crack the top five before the year's up 'cause there's no tastier taco-accompanying cocktail. https://www.youtube.com/embed/TXOvn29p9ms
See recipe.
7. Manhattan
You feel like you're just
a little bit
better than everybody else in the bar when you have a Manhattan in hand, right? It's classy, it's delicious, you can throw it in somebody's face and still look regal AF. https://www.youtube.com/embed/-H8pwVPRG0s
See recipe.
8. Moscow Mule
If you only know the Moscow Mule by its signature copper cup, get a little of this tasty drink in your mouth ASAP. It kicks like a donkey, but it's still got flavors as majestic as a well-groomed horse. https://www.youtube.com/embed/3lbMZHYRZgE
See recipe.
9. Espresso Martini
The Espresso Martini is pretty much the ultimate pick-me-up. Forget about the Red Bull and vodka, the Espresso Martini will get you buzzing and buzzed like no other cocktail can. https://www.youtube.com/embed/ZAgk9eWhKKc
See recipe.
10. Mojito
Rounding out the top 10 is the mojito, which most definitely deserves its spot near the top. When this little sparkling slice of island heaven is muddled to perfection, there's no rum cocktail that can beat it. https://www.youtube.com/embed/mIPMeIady3w
See recipe.
11. Aperol Spritz 
12. Boulevardier
13. Sazerac
14. Bloody Mary 
15. Penicillin 
16. Gin Fizz
17. Vieux Carre
18. Mai Tai
19. Pisco Sour 
20. Dark 'n' Stormy 
21. Vodka Martini
22. Amaretto Sour 
23. Blood & Sand 
24. Sidecar 
25. Tom Collins 
26. Cosmopolitan 
27. Aviation 
28. French 75
29. Champagne Cocktail 
30. Gimlet
31. Piña Colada 
32. Rob Roy
33. Vesper
34. Bellini
35. Zombie 
36. Ramos Gin Fizz 
37. Americano
38. Corpse Reviver
39. Mint Julep
40. Old Cuban
41. Bramble 
42. Clover Club
43. White Lady 
44. Caipirinha
45. Black Russian
46. Hanky Panky 
47. Paloma
48. Brandy Julep 
49. Sangria 
50. Cuba Libre 
What do you think about this top 50 cocktail list? How are these rankings going to change as we get deeper into 2018? Let us know your thoughts in the comments, people!