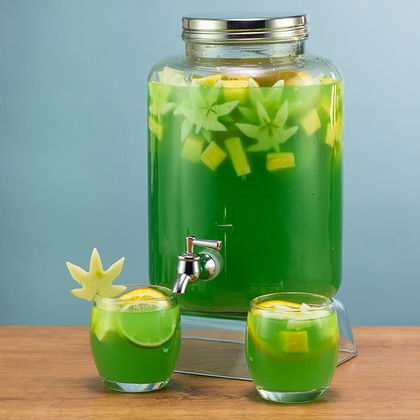 12 Budylicious Marijuana Cocktails for 4/20!!!
We're not going to mess around and be cute about what today is: It's 4/20, and that means it's time for people across the world to celebrate (and smoke the hell out of) marijuana. Otherwise known as pot. Or weed. Or grass. Or ganja, dope, herb, reefer, Mary Jane, bud, stinkweed, nugs, the Green Goddess, the dankness, endo, or kind. But because what we do is boozy drinks, we're going to celebrate 420 with some marijuana cocktails that pay homage to the chronic, even though they don't have THC in them. 'Cause stoners like to drink too, right?
Before we dive into our list of twelve delicious marijuana cocktails, let's get a super-quick background on the origin of the holiday, because it's important for context, and learning while high is hella magical.
Basically, the holiday's origins go back to 1971, when five high school students in San Rafael, CA — who called themselves "the Waldos" 'cause they hung out by a wall — designated a statue of Louis Pasteur and 4:20 p.m. as their place and time to meet and smoke some herb. (Isn't it amazing that you need a fourth time coordinate in order to meet up? Time is a dimension, mannnnnnnn.) Then, some time after that, Steven Hager of High Times took that concept and ran with it, promoting 4:20 p.m. as the "socially accepted hour of the day to consume cannabis." From there, it was only natural that the twentieth day of the fourth month of the year be the time when marijuana is in the green-ass spotlight. 
Now onto the 420 drinks!