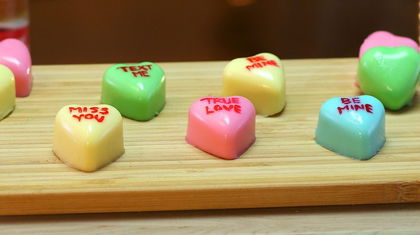 Drunken Valentine's Treats!
Here's a chance to get creative and earn some extra brownie points with your sexy soulmate: Make any one of these four insanely delicious, perfectly boozy Valentine's Day treats, and watch your significant other melt in front of you as your creation melts in their mouth. 'Cause there's really no faster way to somebody's heart than through the drunken Valentine's Day treat.
Sweetheart Jello Shots 
First up, for the true artisan-lovers out there, Sweetheart Jello Shots are going to be your jam — well, your gelatin to be precise. You can even write little messages on them, because just texting "bae 4 lyfe," doesn't have the same effect, you know? https://www.youtube.com/embed/IK-YtE6biVE See
recipe
.
Valentine's Day Jello Hearts 
Have your partners eat their hearts out — literally — by making these Valentine's Day Jello Hearts. They're shaped like hearts, they're made of Jello, and they get you tipsy — in other words, you're going to thank us after your partner "thanks" you for making these. https://www.youtube.com/embed/uWe9-xwWEAc See
recipe
.
V-Day Shots 
If you're the kind of date who's going to be busting out with a lot of
edible items
, then try adding these V-Day Shots into the mix. They're delicious dessert treats, and you can eat the shot glasses. (It'll be a nice little appetizer for all you freaky foodies.) https://www.youtube.com/embed/vUTRT3Vdsl8 See
recipe
.
Hugs and Kisses Martini 
Finally we have the Hugs and Kisses Martini, which is somehow even tastier than it looks. Share one of these with your special someone, and let the real hugs and kisses —
and whatever else may happen
— commence. https://www.youtube.com/embed/h5EzrDdbbik See
recipe
. Do any of these drunken Valentine's Day treats look like they'd wow your partner? Let us know what your V-Day game plan is in the comments!